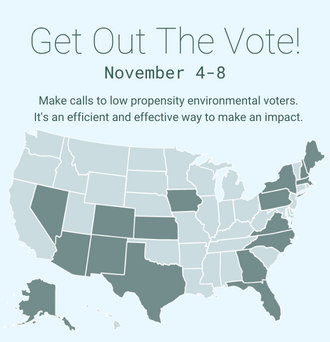 Sign up today to join the Environmental Voter Project in mobilizing low propensity environmental voters to vote by November 8th! The last few days before Election Day are our last chance to follow up with every voter and make sure they cast their ballot before the polls close, so we need all hands on deck.
Sign up for a few shifts today! Every session begins with a training, so there's no prior experience necessary. If you've already been trained, you can skip the training, get the calling details over Zoom, and start turning non-voters into voters!
We'll be calling voters across the 17 EVP target states throughout the week. Our top priority states for each phone bank will be determined on the day of the shift.
Friday, November 4:
Saturday, November 5:
Sunday, November 6:
Monday, November 7
Election Day, Tuesday, November 8:
Join us. It's an efficient and effective way to make a lasting difference. We can't afford to wait.