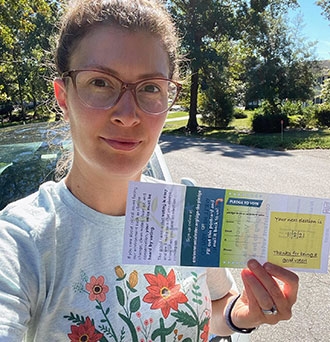 How do you build connections with voters in the middle of a pandemic? According to Mollee, you show up at their door.
Mollee Sullivan, a star volunteer for the Environmental Voter Project (EVP), has spent months canvassing around her neighborhood in Virginia getting to know potential voters. She is a veteran climate activist and volunteer, and is so committed to getting out the vote that she fits canvassing into whichever open scheduling spots she can, including to and from the farmers market or while she picks up her daughters.
In the midst of the pandemic election of 2020, she learned to be more careful with canvassing and started wearing a mask to ensure the people she spoke with were comfortable. The pandemic has caused her to be more cautious when interacting with strangers, so Mollee said she tried to be more approachable.
"Before COVID, it was more personal, and they would ask more questions and you'd explain more about how EVP is a nonpartisan organization, and we're just trying to get people to vote," she said. "Now, I try to be more friendly and cautious and far away, and it worked."
In a continued effort to get as many people to vote as she can, Mollee has committed herself to canvassing every single day between September 27 and November 2, prior to Virginia's upcoming gubernatorial and local elections. She performs daily contactless door-knocking, averaging between 10 and 20 doors each day in the hopes of reaching 400 to 500 households total by Election Day. By spending an hour each day on this, her goal is to reach every precinct in her area. The most houses she reached in a single day? More than 100.
"Canvassing helps me get my steps in," she said.
For her, in-person canvassing is more effective than calling voters by phone. She can develop a better connection with voters in-person.
Besides, "if someone called me, I wouldn't answer either," she said.
For Mollee, the environment is what comes "first and foremost," and she's been a climate activist ever since former President Donald Trump was elected to office. She was pregnant when Trump was elected in November, gave birth in December and, by February, was a full-on climate activist - new baby in tow.
"I said I'm going to strap this baby to my chest and go save the world because I have to," she said. "This man is going to burn the planet if I don't do anything."
So, she decided to start volunteering with EVP in 2018. The nonpartisanship and simplicity of just getting environmentalists to vote was what drew her in.
"It sounded more appealing because you don't get the hate. 'Just vote.' It's easier and friendlier," she said.
She used to canvass for EVP and individual candidates, but chose to only volunteer for EVP this past year. Mollee said that it's better to grab the attention of those who already believe in your mission rather than those you have to persuade.
"Persuasion work is frustrating work. Turnout work is where it's at," she said. "It doesn't matter how much we protest and lobby. If we don't vote, it won't be as effective."
While she engages voters on the street, she's also often online sharing similar messages. She tweets about her canvassing adventures, spreading EVP's message along the way. (Follow her on Twitter @midlomollee!) Mollee also uses her presence online to hold those in power accountable.
"I can call and tweet and lobby and say, 'I voted for you, I turned out new voters and the environment is the most important thing to me — and you're failing that.'"
>When she isn't on the street canvassing, she's listening to "Drilled," reading All We Can Save or following the Disasterology newsletter. When asked what EVP state she'd most want to visit, she admitted that Colorado would be her next stop. "I feel like every enviro has to go on a hiking trip to Colorado at some point." Plus it doesn't hurt that she has family with a new baby to visit.
Ultimately, Mollee's favorite part about canvassing is that she gets to spend time outside with her kids.
"I take my preschooler with me, and we get to go on walks to new playgrounds and see the Halloween decorations around the neighborhood. Some parents are skeptical of me when I canvass their homes looking for their 18-year-olds to talk to, but I can't wait for my kids to get canvassed one day," she said.