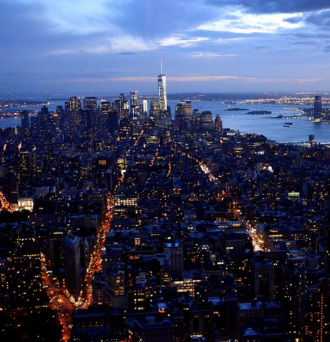 Welcome to Overlooked in Climate Politics, the Environmental Voter Project's monthly newsletter that gives you a quick rundown of 3 under-reported stories in climate politics. Please forward it to your friends (they can subscribe here)! In this edition, we highlight California legislation that might force large companies to detail their greenhouse gas emissions, a groundbreaking climate change case in Montana, and a possibly dramatic expansion of vote-by-mail rights in New York — a state which could decide control of the US House in 2024.
California: A Bill That Could Force Corporate Climate Disclosure.
The Climate Corporate Accountability Act, which passed California's senate on May 30, would require all companies (even those based out of state) that operate in California and generate more than $1 billion/year in revenue to report all greenhouse gas emissions across their supply chains. A system for standardized measurement and disclosure like this would make it significantly easier to regulate GHG emissions, but the bill must now work its way through the state Assembly and then to the governor. Max Graham has written a great piece on this for Grist.
Montana: A Groundbreaking Climate Lawsuit.
The trial has now officially begun in Held v. Montana, where 16 young Montanans are suing the state for allegedly knowingly contributing to climate change by approving and promoting fossil fuel projects that violate the plaintiffs' rights to a "clean and healthful environment" under the Montana state constitution. The trial is set to last until June 23rd, and any decision would not go unnoticed in other states where similar constitutional provisions and rights exist. 
New York: Will It Get Easier To Vote In The State That Will Decide Congress In 2024?
According to the Cook Political Report, New York state currently has 7 competitive congressional seats in the 2024 election cycle, far greater than the 4-vote majority currently held by House Republicans. Any federal climate legislation in 2025-26 will have to make it through the House, and since the House majority will likely be won in New York, recent New York state vote-by-mail legislation could be enormously consequential for the climate movement. As detailed by Brigid Bergin in the Gothamist, New York state Democrats have just sent a bill to Governor Hochul's desk that would allow for "no excuse" mail voting, which is something Governor Hochul has supported in the past and which Environmental Voter Project data has shown to be a particularly popular way for climate-concerned voters to cast their ballots.
 
---
How You Can Take Action
Join the Environmental Voter Project on Zoom to mobilize low propensity environmental voters to vote in the upcoming New York primary elections! We currently have phonebanks scheduled to mobilize Hudson Valley environmentalists on June 22nd at 7pm ET, June 26th at 7pm ET, and June 27th at 12pm ET. Training provided.
If you'd like to receive the Overlooked in Climate Politics Newsletter and other updates in your inbox going forward, please subscribe here.