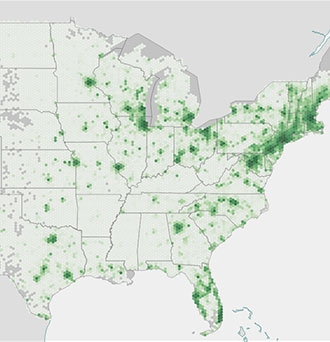 Elections are decided by the people who actually show up...and environmentalists don't always show up. Using big data analytics, predictive modeling, and public voter files, the Environmental Voter Project has discovered that 15.78 million environmentalists don't vote in mid-term elections, and a whopping 10.1 million didn't even vote in the 2012 Presidential election.
How much of that will change this November? We don't know -- that will depend on you -- but we do know that environmentalists could swing dozens of important elections up and down the ballot, and they could have a particularly large impact in the following five states.
Colorado
The Numbers
174,058 Colorado environmentalists didn't vote in 2012 out of an overall statewide turnout of 2,569,522.
State Overview
Colorado is the ultimate swing-state up and down the ballot. Not only does it have a close US Senate race, two competitive US House races, and more presidential ads than you can shake a stick at, but also the state legislature is about as close as you can possibly get. The Democrats currently hold a 34-31 majority in the State House and an 18-17 majority in the State Senate.
What's at Stake?
In addition to dozens of important (and close) elections on their ballots, Coloradans also will be voting on Initiatives 75 and 78, which would, respectively, (a) enable local governments to enact stricter oil & gas development rules than the State and (b) require new oil & gas development to be at least 2,500 feet away from occupied structures or water sources. Needless to say, the fossil fuel industry is getting ready to spend big bucks to defend their interests.
Arizona
The Numbers
231,563 Arizona environmentalists didn't vote in 2012 out of an overall statewide turnout of 2,299,254.
State Overview
Wait...Arizona? Yes, Arizona. It's the newest purple state - haven't you heard? John McCain is in a tight race to keep his US Senate seat, there are 4 competitive US House races, and Republicans hold only a 12-seat majority in the State House and a 6-seat majority in the State Senate. Also, Hillary Clinton currently has a 0.5% lead over Donald Trump in the RealClearPolitics average of Arizona polls.
What's at Stake?
How about the Grand Canyon? Seriously. A large majority of Arizonans want to ban uranium mining near the Grand Canyon, but the Koch Brothers (surprise!) are funding a plan to stop them and put one of our greatest national treasures at risk. Arizona's governor, US Senators, and some of their Congressmen have sided with the Kochs on this issue. On a more local level, the Arizona Corporate Commission (ACC) has three seats up for grabs in November. The ACC sets utility rates and -- despite Arizona literally being one of the sunniest places on earth -- the regulators have a decidedly anti-solar bent and are causing what some have said could be the collapse of the state's solar industry.
Pennsylvania
The Numbers
482,851 Pennsylvania environmentalists didn't vote in 2012 out of an overall statewide turnout of 5,753,670.
State Overview
Lots of eyes will be focused on the Keystone State this November. It looks like Donald Trump has turned Pennsylvania and its 20 electoral votes back into a bona fide swing state. The latest RealClearPolitics average of Pennsylvania polls has Clinton up by only 3.2%. Pennsylvania also has 3 competitive US House races and maybe the most clsely-watched US Senate race in the country, where Pat Toomey (R) is defending his seat from Katie McGinty (D), the former head of the state's Department of Environmental Protection.
What's at Stake?
Often referred to as the "Fracking Capital of the United States," Pennsylvania has struggled to combat the influence of Big Gas and Big Oil. In fact, Pennsylvania's Environmental Secretary recently grew so upset at the State House and State Senate's rejection of gas and oil regulations that he sent a profanity-laced (and resignation-inducing) email to local environmental groups asking for more help. "The environmental community is without influence in Harrisburg," Secretary Quigley complained. "What will you do about it?"
North Carolina
The Numbers
264,889 North Carolina environmentalists didn't vote in 2012 out of an overall statewide turnout of 4,505,372.
State Overview
Hillary Clinton currently holds a slim 2% lead in the RealClearPolitics average of North Carolina polls, and one of the Tar Heel State's US Senate seats is also up for grabs. But perhaps the most-watched race in the state this November will be North Carolina's Governor's race -- see below.
What's at Stake?
Duke Energy has left this purple state with a severe coal ash crisis that's contaminating groundwater and drinking water. After vetoing the legislature's attempt to reinstate the state's Coal Ash Management Commission, Governor Pat McCrory signed a compromise bill that eliminates the oversight commission, merely closes the coal ash pits (rather than actually excavating them), and gives Duke Energy over two years to come up with a way to supply safe drinking water to residents who leave near the ash pits. We'll give you one guess where Governor McCrory worked as an executive for 28 years before entering politics. HINT: it rhymes with Puke Shmenergy. Governor McCrory is up for re-election in November and he's currently tied (41%-41%) in polls with Attorney General Roy Cooper.
Florida
The Numbers
705,269 Florida environmentalists didn't vote in 2012 out of an overall statewide turnout of 8,474,179.
State Overview
Just ask Al Gore how big a deal Florida is. A mere 537 voters (or five Supreme Court justices, depending on how you look at it) handed Florida's 25 electoral votes to George W. Bush back in 2000. Sixteen years later, Florida now has a whopping 29 electoral votes up for grabs, and it's still the King of all Battleground States. In 2012, Obama beat Romney by a mere 74,309 votes in the Sunshine State (a 0.88% margin), and the RealClearPolitics average of Florida polls currently has Clinton ahead of Trump by only a razor-thin 0.6% margin. Oh yeah, Florida also has Marco Rubio's competitive US Senate race, 6 competitive US House races, and Republicans hold only a 12-seat margin in the State Senate.
What's at Stake?
You mean aside from potentially deciding which party controls the US Senate, not to mention who gets elected the next leader of the Free World? Well, a "government-sponsored disaster" has allowed toxic algae to take over the state's waterways and, last time we checked, state employees still weren't allowed to even say the words "climate change," which is...you know...completely insane. Also, FWIW, Donald Trump's Mar-a-Lago resort could be underwater in just 30 years...but I'm sure that doesn't have anything to do with climate change -- oops...we said it!
Reminder
Our planet's future won't be decided by politicians -- it will be decided by how many environmentalists decide to vote on Election Day.
Are you ready to be an Environmental Voter?