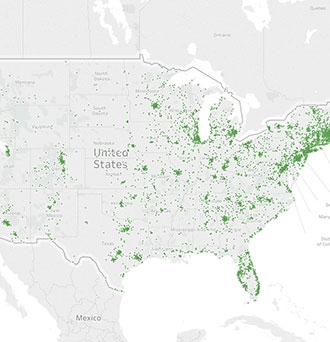 The cutting-edge Environmental Voter Project has gotten off to an auspicious start.
The Boston-based nonprofit that uses data analytics and behavioral science to identify non-voting environmentalists and turn them into consistent voters has just released the results from its first year of mobilizations. And the numbers are head-turning:
EVP's targeting techniques scored an 89% accuracy rating when identifying non-voting environmentalists
In low, medium, and high-turnout elections, EVP consistently increased voter turnout among non-voting environmentalists by 4.7% - 5.1% per election
After receiving EVP's messaging for just one year, the group's target environmentalists had a stunning 12.1% higher turnout rate than comparable environmental voters
"I couldn't be more proud of our team," said EVP Founder Nathaniel Stinnett. "This validates everything that the Environmental Voter Project set out to prove when we launched a year ago: that if we consistently target non-voting environmentalists with cutting-edge behavioral science techniques, we can change their habits and bring about a dramatic shift in the electorate."
The Environmental Voter Project is a non-partisan nonprofit that is trying to solve what they call the "environmental voter turnout problem."
Using data analytics and predictive modeling, the Environmental Voter Project has identified 15.78 million environmentalists who did not vote in the 2014 midterms and an estimated 10.1 million who didn't vote in the 2016 presidential election. EVP's approach is to focus on these already persuaded environmentalists who don't vote and then try to change their habits.
In short, they focus on turnout, not persuasion. Or, as Stinnett puts it, EVP "doesn't try to change minds...we change habits."
"Getting people to care about the environment is important," explains Stinnett, "but it's also really hard and expensive. We've found that it's easier and cheaper to identify people who already care about the environment, and then just tweak their habits a bit so they become better voters."
Now, the nonprofit is launching a fundraising campaign so it can scale up and apply its proven techniques to as many non-voting environmentalists as possible. They're poised to launch what Stinnett calls "a relentless mobilization campaign" that could transform the electorate.
"This is a tremendous opportunity for the environmental movement," explains Stinnett. "These numbers prove that we can turn non-voters into consistent voters, and lay the groundwork to advance progressive environmental policies at the local, state, and federal level."
The Environmental Voter Project's 2016 Impact Report can be found here. Its fundraising campaign can be found here.