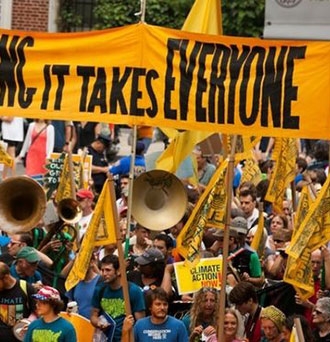 It's hard to believe, but the 2018 election cycle is already here.
The 2017 campaign lawn signs haven't come down yet, but pundits are already calling the November 7th results a harbinger of Democratic victories to come in 2018. They may be right, but if we're going to get serious about the deepening climate crisis, the more important question is: Will 2018 be the year that politicians (and voters) finally begin to focus on climate change?
Early signs indicate that they will.
Leading up to last week's election, the Environmental Voter Project called, visited, and texted over 250,000 environmentalists in five key states: Pennsylvania, Florida, Colorado, Georgia, and Massachusetts. We also had, unsolicited, more than 1,000 people contact our non-profit to volunteer for get-out-the-vote efforts – far surpassing any prior numbers. It's clear from these conversations with volunteers and voters that environmentalists are now highly motivated.
That's good, because climate voters are needed now more than ever.
After record seasons for hurricanes, wildfires, heat waves, and flooding, the impacts of climate change have never been more apparent, yet President Trump seems determined to make matters worse by gutting the Clean Power Plan, withdrawing from the Paris Agreement, and slashing the EPA's budget.
If 2018 is like previous elections though, most people who care deeply about climate change may not even show up to vote. According to Environmental Voter Project research, only 50 percent of environmentalists voted in the 2016 presidential election, compared to 69 percent among all registered voters. In the 2014 midterm elections, only 21 percent of environmentalists voted, compared to 44 percent among all registered voters.
Low turnout poses an obvious problem in that it affects the outcome of close elections, but its true impact is far greater and longer lasting due to an often overlooked mainstay of modern politics: polls of "likely voters." When environmentalists don't vote, they aren't considered "likely voters," which means they won't get called by pollsters. Consequently, environmental concerns have become under-represented in the electorate, leaving candidates, policymakers, and the media to focus on other issues. This was never more apparent than in the three 2016 presidential debates when climate change was discussed for a mere 5 minutes (and, even then, only because of a question from the audience).
The good news is that all of this might be changing.
Recent studies show that young people (ages 18-29) and Latinos are far more likely to care about climate change than any other demographic groups, and in 2017's marquee election in Virginia, we saw surprising increases in voter turnout among these two groups. Latinos jumped from representing 4% of turnout in 2013 to 6% in 2017, and 18-29 year olds doubled their turnout rates over just eight years, from 17% in 2009 to 34% in 2017. These trends are certainly moving in a good direction for climate voters.
We also saw climate activists win big victories up and down the ballot on November 7th. Local elections usually don't mention climate change, but in 2017 the climate crisis was front and center in many important races. In Washington state, two crucially important swing-seats were won by candidates running on explicitly pro-environment platforms, despite the fossil fuel industry spending over a million dollars to defeat them. In the bellwether of St. Petersburg, FL, incumbent mayor Rick Kriseman narrowly defeated Rick Baker, largely by painting him as a climate denier. And voters across the country supported a host of climate-friendly ballot measures, including a $200 million climate bond measure in Miami, and a green roof initiative in Denver where opponents outspent supporters by a 12-to-1 margin.
Large numbers of latent climate voters have always existed - with as many as 20 million registered voters listing environmental issues as one of their top priorities - but historically, few of them turn out on Election Day. Ironically, with the Trump administration explicitly denying the scientific consensus around climate change, the President may be accomplishing something the environmental movement has struggled to do for years — convincing environmentalists of the importance of voting.
We won't know for sure until the ballots are counted, but it sure seems that we'll be hearing from climate voters on November 6, 2018.
Nathaniel Stinnett is the Founder & Executive Director of the Environmental Voter Project, a non-profit focused on increasing turnout among environmental voters in local, state, and federal elections.