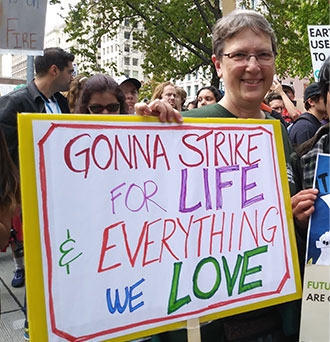 Have you ever thought about how many texts you send in a day? Even by today's standards, the idea of sending even 100 texts in a day seems like a lot. 
Well, when Roberta Rominger hits 100, she has barely even started.
Now try 4,400 texts. In six hours. 
That's Roberta Rominger's current record for the number of texts she's sent in a day while volunteering with the Environmental Voter Project. For the last two years, Roberta has been involved in phone banking, text banking, and spreading the word about EVP's mission - promoting a healthy climate by getting traditionally non-voting environmentalists to the polls.
Roberta first heard of EVP after Founder and Executive Director, Nathaniel Stinnett, spoke on a webinar with members of her church. As someone who had spent years volunteering and supporting various political and environmental campaigns, Roberta was hooked from the start.
"The voting part was the hook for me. I was attracted to the fact that EVP's mission is a long term project - it's not just about this election - but it's about setting up a foundation for the future. So, getting involved with EVP was a perfect fit for me. It's so intelligent, it's so professionally done, and it perfectly scratches where it itches."
EVP combines a focus on protecting our environment with the fundamental duty of voting. Environmentalists are traditionally a low voting turnout group, despite the fact that climate change ranks higher and higher on the list of voter priorities. In fact, a stunning 10.1 million environmentalists skipped the 2016 presidential election.
EVP uses data analytics to identify non-voting environmentalists across 12 states and then applies behavioral science-informed messaging to turn the environmentalists into better voters. By communicating with these non-voters in everyelection - local, state, and federal - EVP helps them build good voting habits, and the organization has already turned over 253,000 non-voting environmentalists into "super-voters," who now never miss an election.
And super-voters have the power to change policy.
"Environmentalism is the cause of our day," said Roberta. "If we don't make the changes we need to make within the next decade, then the future of so many species, including our own, will have a huge question mark over it. Things are tough right now and I feel a responsibility to help be part of the solution."
And it's clear that she takes that responsibility seriously. As a pastor for the United Church of Christ, she's led her church through marches; hosted local activists, environmentalists, and sustainability groups from her community in her church; and she routinely updates her church's letterboard with reminders of the importance of climate change.
Roberta's involvement with local activists is her way of contributing to a movement that can sometimes feel frustrating. Local officials don't always listen, so encouraging environmentalists to participate in their local elections is a way to get their voices heard.
"Voting with the climate in mind should be more of a priority right now, and in recent years, I've felt like we've been taking massive steps backwards. Being involved in this organization makes me feel like I'm doing my part in the fight with a community of people who believe in it just as much."
As an actively involved EVP volunteer, Roberta also knows all about the sense of community that comes from sitting around a room (or a Zoom) and texting voters together.
"The way EVP works is like magic to me and sharing it is part of the fun. On event days, we get together to start texting voters and share replies or questions that we get in response. It's a community that feels personal and important," she said. "It's a culture of people who all respect and believe in the same mission."
For an important Get-Out-The-Vote event a few weeks ago, Roberta and her team were assigned to send 27,000 texts out to voters in Florida and Pennsylvania. They were able to finish their list with time to spare, and share their favorite responses. Roberta noted how proud she was of her fellow volunteers and how she's hoping to get more involved in training and recruiting volunteers for the future.
When asked about what speaking up for climate justice means to her, Roberta says it all links back to her faith.
"It's about love for me. It's about love for the Earth, and it's also part of my faith. Sometimes I feel like what I'm experiencing is a little fraction of God's love for the planet, and it feels so urgent. It feels desperate and urgent."