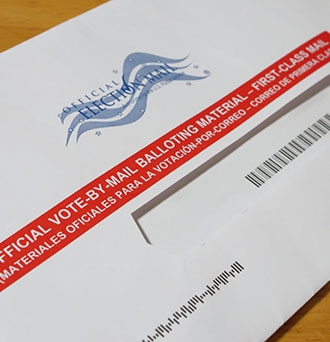 The Environmental Voter Project (EVP) has announced that it will be expanding its voter outreach programs into five new states: Alaska, Texas, Kansas, Iowa, and New York. With this addition, the EVP will now operate in 17 states to identify inactive environmentalists and equip them with the tools to become lifelong voters. Following record voter turnout in the 2020 presidential election, EVP hopes to increase environmentalist turnout in local and state elections as well. 
Ensuring that the people who prioritize environmental issues get to the polls is one of the most powerful ways to begin electing more environmental leaders into office.
Why This Matters: Despite 2020's record-breaking temperatures, hurricanes, and wildfires, only 42% of voters in the 2020 presidential election said that climate change was "very important" to their vote.
Despite low priority among current voters, among all Americans, more than 60% now view climate change as a major threat to the U.S.
63% have noticed its impact in their own communities. There is strong public support for progressive environmental policy, especially prioritizing the development of "alternative energy sources", which 79% of Americans support.
But according to EVP, many of those people don't show up to vote. The organization has identified over 15 million non-voting environmentalists across the country, and 5 million in states included in the expansion. EVP hopes that it can turn those "seldom" voters into "super-voters" for upcoming state and local elections.
What You Can Do: Interested in volunteering with EVP? It's easy to sign up!
Why These States?
EVP chose these five states based on data that showed disproportionately large numbers of non-voting environmentalists residing there. These states also have active election calendars in both odd and even years, which will help EVP encourage new voters to develop consistent voting habits. 
"The climate movement can no longer afford to only get political every 2 or 4 years. We must mobilize every day, in every election, in every state to amass so much political power that we're impossible to ignore," said Nathaniel Stinnett, Founder and Executive Director of EVP told Our Daily Planet. "There are over 5 million non-voting environmentalists in these states whose voices have not been heard at the polls. We know that our approach works and we know that if these inactive voters start showing up on Election Day, they could change everything."
Why These People?
Across all 17 states, EVP has identified specific demographics that could be responsive to mobilization. Those who identify as Hispanic are twice as likely to prioritize climate issues than they were two years ago. The dynamic grandparent-grandkid duo is also a prime target, with Baby Boomers and Millenials/Gen Z most likely to prioritize environmental issues. Women also lead the pack on environmental prioritization. EVP believes that these demographics will be key players in several upcoming elections, including mayoral elections in New York City, San Antonio, Atlanta, Anchorage, Topeka.
Tried and True: EVP's methods have seen success in recent elections. During the 2020 primaries, the organization significantly increased voter turnout in six key states. And their efforts in the presidential election resulted in a 1.8 percentage point increase in turnout in Pennsylvania and a 0.6 increase in Florida. 
During the high-profile Georgia runoffs, EVPs mobilization efforts led to a 0.9 percentage point increase in voter turnout. 
Across all elections, voter records show that 733,007 of the 6,160,802 non-voting and seldom-voting environmentalists EVP has communicated with in the past 6 years are now consistent super-voters who vote in every election. 
And Stinnett has no intention of taking a break. "2021 isn't a year to slow down, it's a year to speed up," he said. "The Environmental Voter Project is going to contact even more voters this year than we did in 2020 because the climate crisis sure as hell isn't going to slow down and wait for us."